The modern industrial and distribution estates to the east and south of the village are built on what was originally the Royal Naval Air Station known as HMS Blackcap.  The station's name is commemorated in the new road between Stretton Road and Dipping Brook Road to the West of the village – Blackcap Road.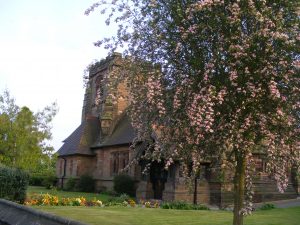 For the last 28 years, at 12 noon, on the first Sunday in June, Royal Navy veterans have commemorated those who lived – and those who died whilst serving – at HMS Blackcap. The Greater Manchester Branch of the Fleet Air Arm Association holds a parade and service at St Cross Church, complete with its own Padre and usually the Mayor of Warrington in attendance.
Inside St Cross Church is a memorial plaque commemorating those who lost their lives and a White Ensign suspended from a side wall. The church's graveyard includes well-tended graves of service personnel who died whilst stationed at HMS Blackcap.
All villagers and anyone else interested are invited to attend the commemoration that will be next held on Sunday June 4th – at 12 midday.
Let us not forget the service and sacrifice given in defence of our country by these brave men and women.